EMERAUDE CRUISE
Tour schedule :
Tour code :
Every day, the Emeraude journeys through one of the world's most dazzling natural wonders and into the sepia realm of a dream. Named for a cruising vessel that plied these waters between 1906 and 1937, the Emeraude aspires to the magnificence of the bay itself. Its air-conditioned cabins, en suite bathrooms, award-winning cuisine and spacious deck space set the stage for the voyage of a lifetime.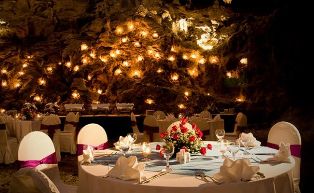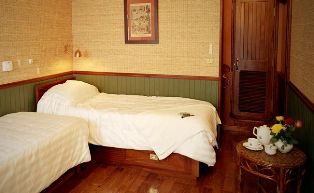 Cabin & Suites
On the Emeraude, buoyed by one of the world's most beautiful bays, little things matter. Colonial style brass fans. Hardwood floors. Beadboard walls. And the most comfortable beds on the bay. In every cabin, the rich decor evokes another age, when craftsmanship mattered more than the bottom line.
But make no mistake: The Emeraude makes concessions to the modern era, with air conditioning, electricity and other amenities typical of an upscale hotel room. No need to bring your own hair dryer. We've got that. Umbrellas, slippers, bathrobes. We've imagined all the contingencies so you'll be fully prepared to enjoy your cruise
1. The Captain's Suite 
Also housed on the sundeck and benefiting from the same stunning views is the Captain's Suite.
At nearly 17 square metres, the port-side suite is spacious and comfortable and lined with colonial-era bamboo matting. 
On the wall, antique maps will help you plot the vessel's path through the karsts and islands of Halong Bay. 
2. The Emeraude Suite 
At 19.5 square metres, the luxurious Emeraude Suite is roomy enough for a queen-sized bed, as well as a large sofa and space to entertain, which makes it a favourite with families.
Its cream and green colour scheme adds warmth and nostalgia to the wooden fixtures and flooring.  A sundeck location on the starboard side and ample windows deliver wide views across the bay.
Outside, an adjacent sitting area is the perfect place to enjoy a drink or relax and marvel at the passing scenery.
3. The Paul Roque Suite
Named after the original Emeraude's first owner, this was the vessel's suite.
At nearly 16-square metres, it is the smallest of the three but has a trump card.  The popularity of the Paul Roque Suite remains unrivalled due to a private deck. The deck features both sun loungers and chairs for uninterrupted relaxation.
Its situation on the bow's upper deck adds to a feeling of unhurried, truly tranquil travel.
Inside, comfortable chairs, a rug and checked wall coverings add to the "golden age" feel.
Wide windows ensure fabulous views.
4. 34 Deluxe and Superior Luxury Cabins
Emeraude's twin and double rooms each feature innerspring mattresses to ensure a comfortable night's sleep.
Each room is equipped with all the necessary amenities, from air conditioning to hot showers.
Ultimately, the greatest attraction remains outside your cabin door. Each room opens directly onto the deck.
Superior rooms are located on lower deck with deluxe rooms on the upper deck. 
5. Room to relax
Space, privacy and relaxation are themes that run throughout the Emeraude.
On the main and upper decks, there are a number of quiet seating areas. And there's always an opportunity to stretch out on a sundeck lounger. The emphasis is always on the bay itself.  The aim is to provide true comfort at all times in order to best enjoy the surroundings. 
Emeraude Restaurant
The Emeraude's restaurant offers delicious, freshly caught local seafood and other specialities.
While enjoying breathtaking views of the bay, passengers can enjoy the simple and honest flavours of traditional fare.
Emeraude Cafe
Opened in late 2007, Emeraude Cafe is an ideal jumping off point for your adventure on Halong Bay. Grab a bite while you wait for embarkation. Check your email. Surf the Net. Browse our souvenirs. And anticipate the voyage that's about to begin.
The cafe serves a selection of Western food, including made-to-order sandwiches, panini and pizza. Along with an extensive variety of teas, coffees and fresh juices, the café has an excellent wine list, sourced from around the world.
A cozy interior and outdoor terrace provides space for up to 70 diners. Beyond the Cafe's culinary attractions, the new facility features complimentary wireless access, two Internet terminals and a souvenir boutique.
There's also a sales desk in the café if you'd like to book passage on the Emeraude, or one of our new soft adventures.
Spa Packages are now Available Onboard
Body wellness facilities and services are now being added to  the already luxurious on-board package, adding another layer of relaxation to supplement the dazzling views.
Itinerary
DAY 1
11:30 - 12:00 Registration at Emeraude Cafe
12:00 - 12:15 Embarkation
12:15 - 12:30 Check-in
12:30 - 12:45 Captain raises anchor
12:45 - 14:00 Refreshing Vietnamese & Int'l buffet lunch served
14:00 - 14:30 Free & easy
14:30 - 16:00 Shore excursion to Song Sot Grotto
16:00 - 16:45 Relax & chill, easy cruising along the Bay
16:45 - 17:00 Captain anchors for the night
17:00 - 18:00 Swims, kayaks or enjoy traditional spa treatments
18:00 - 18:30 Vietnamese Fresh Spring Roll Cooking Class
18:30 - 19:00 Cocktails on the sundeck
19:00 - 21:00 Gourmet VN seafood & European dinner buffet served
20:30 - 23:00 Screening of highly acclaimed classic "Indochine"
DAY 2
06:00 - 07:00 Complimentary cafe gourmand served on the sundeck
06:30 - 07:00 Learn ancient art of Tai Chi on sundeck
07:00 - 08:00 Leave luggage/bags outside cabins
07:00 - 08:30 Energizing breakfast served
08:30 - 09:00 Check-out
09:30 - 10:00 Disembarkation
10:00 - 10:15 Drop off point: Emeraude Café
The Route
Your cruise through Halong Bay wends among otherworldly karst formations and opens up views of one stupendous seascape after another. Be sure to key on the following attractions, as well. Changeable conditions and tides can affect the route, visibility and anchorage, but the following spots should be visible from the sun deck.
Sung Sot Grotto 
Early French tourists who wandered among the 10,000 square meters of this cavern dubbed this space "Grotte des Surprises", or Surprise Cave. Sung Sot more than lives up to its name on Bon Ho Island, situated right at the heart of the UNESCO-recognised World Heritage area.
From the wharf, 50 steep stone steps lead up to the entrance, but the view is worth the effort.  The grotto features thousands of stalactites and stalagmites. Paths, lights and signposts guide you through two caves which continue to offer yet more twists, turns and, yes, surprises throughout.
Cua Van and Vung Vieng Floating Villages
Seven hundred people live at Cua Van in a calm bay surrounded by limestone karsts.  Most, not surprisingly, earn their living by fishing and spend almost their entire existence living on the water.
The following day you will also pass Vung Vieng Floating Village.  Sixteen hundred people live on Halong Bay itself in similar communities.
Hang Trong Anchorage
The Emeraude anchors at Hang Trong. Hang Trong , or Drum Cave, refers to a nearby cave that earned its name as a result of the sound made as the wind blows through its stalagmites and stalactites.
The waters here are quiet for swimming and there is lots to explore by kayak.
Depending on conditions there are as many as five potential anchorage spots. Though Hang Trong is the most used, conditions may mean the vessel's captain opts for another site.
Titov Island
Titov Island was named after an illustrious visitor, Gherman Stepanovich Titov, who visited the spot on November 22, 1962 alongside President Ho Chi Minh. The Soviet astronaut was the second person to orbit the earth. Titov himself returned some 35 years later on June 27, 1997.
The island is noted for a beautiful crescent-shaped beach that's popular with swimmers and water sports enthusiasts. You may also hike 420 steps up to a pavilion at the summit for a panoramic view of Halong Bay.
Soi Sim Island
On its return to Bai Chay, the Emeraude cruises past Soi Sim.  Unlike the limestone karsts, this soil-based island supports ancient trees and a stunning white sand beach.
Practicalities
Emeraude Shuttle
Most travelers journey to Emeraude Pier with their tour group. But independent travelers can elect to take the Emeraude Shuttle.
Two 16-seat Mercedes Sprinter mini buses make daily departures from Hanoi and Halong City. The eastbound bus to Halong leaves from the Emeraude's sales office at 46 Le Thai To every morning at 8.30am.  The westbound bus leaves Emeraude Pier for the return trip to Hanoi at 9.30am. The three-hour each-way trip costs $40 return.
Emeraude Cafe
From shuttle to cruiser, we anticipate virtually direct boarding but, for those arriving independently, the Emeraude Cafe offers a comfortable place to spend time until embarkation.
Shop for souvenirs or enjoy a drink or snack. The Café serves a wide selection of international food including freshly made sandwiches, panini and pizzas.  In addition, there are teas, coffees, fresh juices and a wide ranging wine list.
The Emeraude Cafe also provides complimentary WIFI access.
Emeraude Pier & Embarkation
After boarding via Emeraude Pier, park your luggage in your cabin and head to the sundeck for a refreshing welcome cocktail.
A buffet lunch is served as the vessel casts off and heads out onto the magical waters and into the unrivalled scenery of Halong Bay.
Pastime
While aboard the Emeraude, be as active or as indolent as you please.
Go caving at Sung Sot Grotto. Take in the bay from its entrance before heading into the darkness and its natural wonders.
Experience the jade-green waters. At the overnight anchorage, take a swim from the dock, dive from our decks or launch a kayak for a nearby islet.
Drink a cold beverage. Prepare for sunset with a drink in one hand and a camera in the other. 
Whet your appetite. Learn a few tricks of the trade from our Vietnamese chefs at a cooking demonstration.
Behold the silver screen. After dark, gather topside for a viewing of "Indochine," projected on deck with surround sound and surround scenery. An unparalleled movie experience.
Squid anyone? Try your hand at squid fishing with the Emeraude crew.
Tai Chi, Halong style. To enjoy the ultimate serenity in the ultimate location, meet our tai chi instructor on the sun deck at dawn with complimentary tea and coffee.
All Hands on Deck. Foot and shoulder massages in the sunshine or go below deck for body wraps and scrubs - without losing that Halong Bay View.
EMERAUDE CLASSIC CRUISE PACKAGES
Explore the wonders of Halong Bay.  Choose from any of these packages, designed to enhance your stay on board.  From door to door service and inclusive offers, this is a classic way to enjoy your journey on the Emeraude!
Published Rates
May 2010-October 2011
Superior Cabin

3,549,000 vnd/person/double or twin occupancy

5,691,000 vnd/person/single occupancy

Deluxe Cabin

3,759,000 vnd/person/double or twin occupancy

5,943,000 vnd/person/single occupancy

Suite Cabin

5,859,000 vnd/person/double or twin occupancy

10,290,000 vnd/person/single occupancy
Exchange Rate: 21000 VND/USD
November 2010-April 2011
Superior Cabin

4,389,000 vnd/person/double or twin occupancy

7,119,000 vnd/person/single occupancy

Deluxe Cabin

4,809,000 vnd/person/double or twin occupancy

7,413,000 vnd/person/single occupancy

Suite Cabin

7,329,000 vnd/person/double or twin occupancy

12,852,000 vnd/person/single occupancy
Exchange Rate: 21000 VND/USD
Group price policies:
- 5% discount for any groups from 6 to 10 people
- 10% discount for any groups from 11 people or more
- Special promotion: 5% discount for all groups booking from 1 May to 30 September
more - EMERAUDE CRUISE
Every day, the Emeraude journeys through one of the world's most dazzling natural wonders and into the sepia realm of a dream. Named for a cruising vessel that plied these waters between 1906 and 1937, the Emeraude aspires to the magnificence of...
Read more
Viewed
Every day, the Emeraude journeys through one of the world's most dazzling natural wonders and into the sepia realm of a dream. Named for a cruising vessel that plied these waters between 1906 and 1937, the Emeraude aspires to the magnificence of...
Read more